Rio Samba Parade Tickets
Rio Carnival Sambadrome Parade Tickets
Sambodromo Tickets Sell like Hot Cakes!
Plan ahead and get your 2020 Rio Carnival Parade Tickets and Hotel Accommodations Packages to Rio Carnival. Buy your Carnival Parade tickets online, book your hotel accommodations or contact our Carnival Help Desk for assistance planning your Rio Carnival vacation of a lifetime! Guarantee your Tickets today The Rio de Janeiro Sambadrome Marquês de Sapucaí seats over 90,000 spectators on Rio Carnival parade nights. However, with Rio Carnival being one of the most spectacular shows on earth, there are millions waiting for a chance to experience the celebrations at least once during their lifetime. Sambadrome Parade tickets are the most sought after commodity in Rio during Carnival and sell out well in advance. Blame it on the stadium being much too small for such a big event, or on anything else you wish, but the fact remains that Rio Carnival tickets sell like hot cakes. This unique event only occurs once a year -- and with the demand for tickets far outweighs the supply when it comes to Samba Parade tickets, you're not going to want to miss out on all the fun.  What are you waiting for? Secure your Rio Carnival 2020 tickets today and be a part of one of the largest and most exciting celebrations in the world.

A sector with a view The book your tickets. Moreover, you first need to decide which day you prefer to attend. Championship Sunday and Monday are the most sought after days of the Rio Carnival parades. The only difference between Monday and Sunday is the actual selection of schools that will take part in the parades.  If you wish to see a particular school's performance, then be sure to purchase a ticket for the correct day. Below, find the times and order of the Special Group Parades for Rio Carnival 2019:
| February 23 (Sunday) | February 24 (Monday) |
| --- | --- |
| Império Serrano | São Clemente |
| Viradouro | Vila Isabel |
| Grande Rio | Portela |
| Salgueiro | União da Ilha |
| Beija-Flor | Paraíso do Tuiuti |
| Imperatriz | Mangueira |
| Unidos da Tijuca | Mocidade |
Sambadrome's prime sectors
Each block has its advantages and disadvantages when it comes to viewing the Rio Carnival Samba parade. Tickets in Sectors 3, 5, 7 and 9 offer some of the best views of the Carnival runway. Since most judges are seated in Sector 7, you can bet these offer some of the best views in the house. Sector 9 is reserved mainly for tourists, and has the most expensive seats in the house. You may find a few locals there, but if you really want to participate in the festivities, you need to choose other sectors and be amongst the Tickets for the Sambadrome Parade range from approximately US$ 150 to US$ 1200 or more, depending on the sector and the source you purchase the parade tickets from. Tickets for Carnival Sunday and Monday are the most expensive. Next is the Champions Parade on the following Saturday. Prices for the Access Group on Carnival Friday are significantly cheaper, albeit less grand.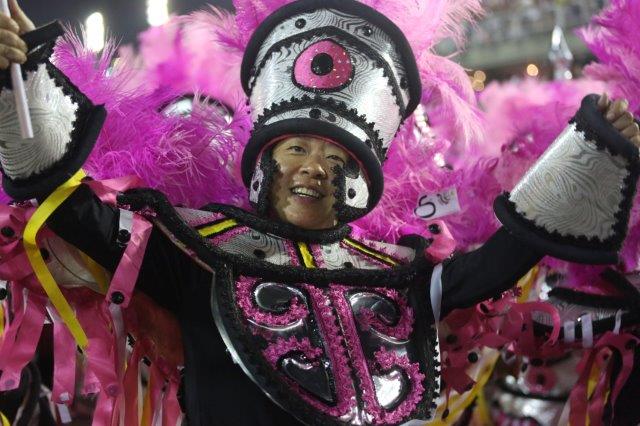 Carnival Parade Tickets are valid for a single night only. Each ticket has two parts, one part with a barcode that is retained by the officials at the gate, and the other part with a laynard to be worn around your neck during the Rio Carnaval samba parade. This system allows you to have free access to your sector throughout the night. Upon your paid booking, Rio.com will issue your vouchers. Your official tickets are issued on exchange of the vouchers only one week prior to the Carnival. This procedure is in place in order to avoid any duplication and fraudulent practices. This is one time you want to put your budget aside and pick up some tickets to the Sambadrome.  The excitement of being with 90,000 other spectators enjoying the spectacle of sound, lights and color in unlike any other celebration in the world.  Be sure to take lots of pictures so you have plenty of tangible memories of this amazing event.
Tickets from authorized agents
Children under 5 are the luckiest, as they can get into the carnival ticket. Make sure you purchase tickets from an authorized agent like rio.com. Agents that source tickets from the authorities would give you a better price than those who use other intermediaries. In all the excitement, don't forget to book your tickets as soon as possible.*** All Prices are subject to change
Plan ahead and get your 2020 Carnival Parade Tickets and Hotel Accommodations Packages to Rio Carnival. Buy your Carnival Parade tickets online, book your hotel accommodations or contact our Carnival Help Desk. Guarantee your Tickets NOW.
It's Carnival Time
Enjoy specials deals for Rio Carnival 2020