Preparing to Parade
All you need is your stamina, joy and willingness to follow the Carnival Parade
Preparations for the
Rio Carnival
carry on for months. However, as a visitor it is suggested to have one
rehearsal
with the
samba school
of your choice, and purchase your costume in advance of arriving in Rio de Janeiro. All you need is the stamina to parade the whole length of the samba runway, the drive, and the will to win. Your role in the parade will be explained in detail by the president of your wing. This will include learning the words of the samba song. It doesn't matter if you don't know Portuguese; you can try your best to sing out whatever you can. The song and powerful beats of the samba drums is what makes the crowd go wild. Keep in mind each school spends the whole year preparing for this one performance. Therefore do your best to perform to standards. Keep smiling, singing and dancing through the whole parade as what you do can add or loose points for your school.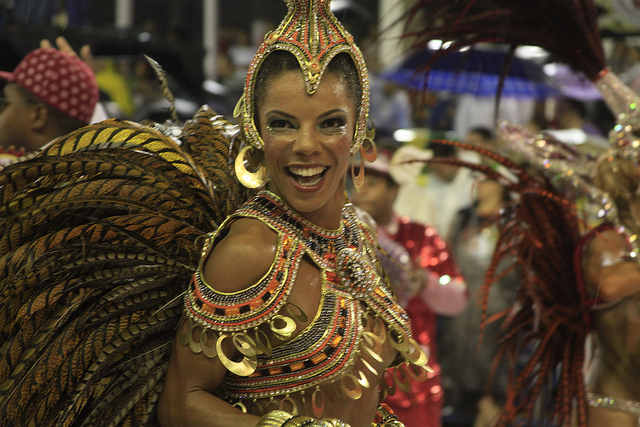 The Wing President's checklist
Your wing president will get you to learn a few samba steps from the professionals. This is something that goes well with your costume if you do manage to master a few steps. However, this is not necessary, as you may end up holding the parade if you can't get the steps right. Most importantly, your wing president will ensure that your costume is in order before the parade. One of his main tasks is to ensure that all is in order as far as the costumes are concerned. Make sure you don't lose any part of the costume or you will have to sit on the sidelines. Let your Wing President know if part of your costume is broken or torn. He will try and make sure your costume gets fixed before you enter the
Sambadrome
.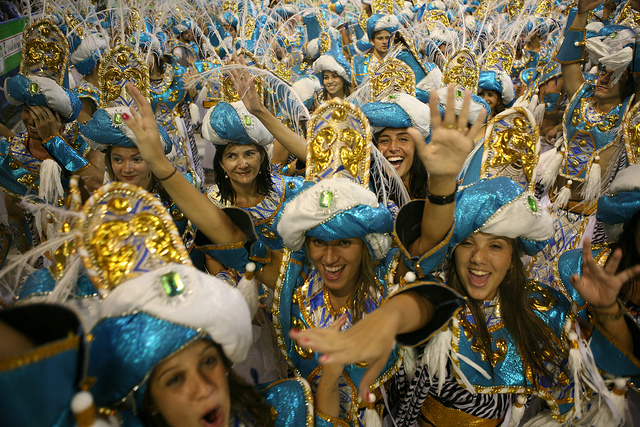 Getting there on time
Getting to the Sambadrome with your costume on time for rehearsal is equally important. Finding your wing is easy because everyone else in your group will be wearing the same costume. The samba schools gather on Avenida President Vargas near Sector 1. Take note if you are to gather at the even or odd numbered sector. The even numbered sector meets near Sector 2 at the Correios building. Odd numbered sectors meet next to Sector 1 near the "Balança mais não cai" building.
Not Sure How to Plan you Rio Carnival Extravaganza?
Our 
Rio Carnival Gurus
are here to assist the rich and the poor, black or white, and make everyone young at heart for a Unique Samba experience. Let them help you plan a vacation your will remember for e-v-e-r.
Looking after your costume
There are no changing rooms at the stadium so you may want to wear your costume before you leave for the
Sambadrome
. Briefings by the wing president begin at least two hours in advance. This is the best time to get a feel of what to expect in the next few hours and talk to fellow members of the samba school. Take this time to meet and speak with the locals and tourists who will be parading in your wing. These few moments sharing stories and backgrounds will live forever in your memory.Who knows you may get a few good tips on how to look after your costume during the parade and help your team score some brownie points. You will not be allowed to carry a bag or backpack in the parade. Travel light and only take your passport copy and sufficient cash to get through the night. These items must somehow be stowed under your costume so they are not visible.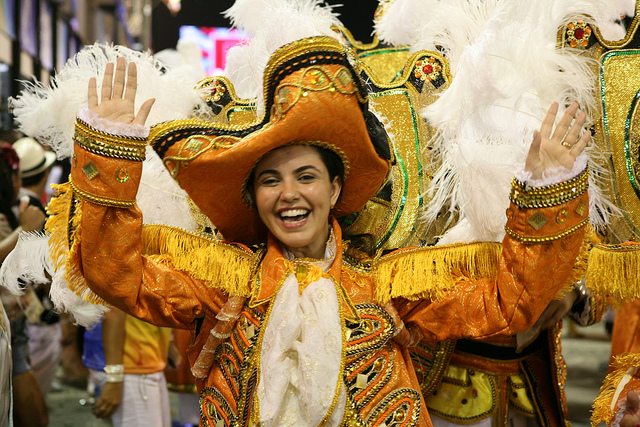 The
Rio Carnival
is all about enjoying life the Carioca way. Your team will have plenty of support since
Cariocas
support their favorite samba school with a lot of passion. Whatever it is, make sure you arrive all geared up for the competition in time.
It's Carnival Time
Enjoy specials deals for Rio Carnival 2019