Mocidade Independente
Mocidade is an expert in innovative and futuristic themes
Mocidade Independente de Padre Miguel is a premier
samba school
in Rio de Janeiro, situated on Rua Coronel Tamarindo, in the Padre Miguel neighborhood. Over the last couple of decades it has become one of the most special in Rio de Janeiro and recipient of several Carnival championship titles. This school is a testimony that when opulence meets extraordinary with methodology in execution, brilliant
parades
are produced. It is interesting to note that some of the best all time artists from the Brazilian festivity were from Mocidade studios.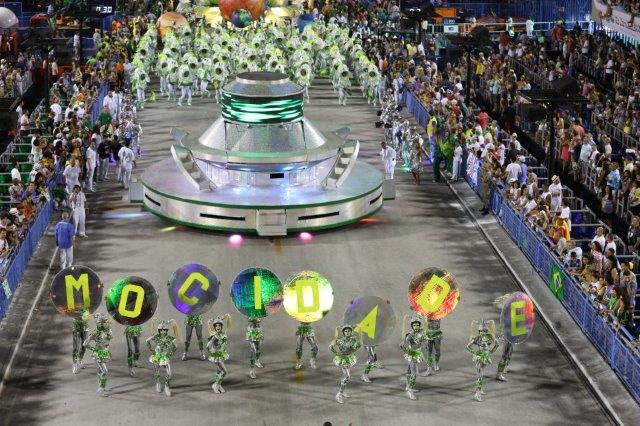 History
The samba school Mocidade Independente was set up in the year 1955 on November 10th by a group of eight people including Olímpio Bonifácio, Djalma Rosa, Renato da Silva, Sílvio Trindade, and Garibaldi F. Lima. Their first participation was in Rio's parade of 1957 with the theme The Ball of Roses or "O Baile das Rosas" and won the 5th place. By progressively performing well year after year Mocidade Independente finally made it to the Elite Samba group in Rio.
Identity
The name Mocidade Independente de Padre Miguel means "Independent Youth of Father Miguel" and this samba school is symbolised by the colors green and white with a large green star at the centre of the flag.
Performance
In the beginning Mocidade gained popularity for its amazing Drum Section, it was only in the later years that it achieved a status of an important school at the Sambadrome and started to compete directly with the great samba schools such as Mangueira, Portela, Império Serrano and Salgueiro. Amongst its many commendable parades include the beautiful and imposing opening wing float, a giant spaceship of the Indians of the future. Mocidade Independente is a force to reckon with in the carnival circuit of Brazil and amongst the 5 most important samba schools in the country.
Carnival Information 2018
| Group | Day of the Parade | Parade Time |
| --- | --- | --- |
| Special Group | February 11 | 04:30 |
Theme:
"Namastê… A Estrela que Habita em Mim Saúda a que Existe em Você"
Composer:
Altay Veloso, Paulo César Feital, Zé Glória, J. Giovanni, Denilson do Rozário, Carlinhos da Chácara, Alex Saraiça e M. Meiners.
Interpreter:
Wander Pires
Samba Enredo
Kamadhenu derrama leite em nosso terreiroGanesha tem licença do cruzeiroDesemboca o Ganges cá no Rio de JaneiroOs Filhos de Gandhi hoje são brasileirosBrahma foi quem guiou velas de PortugalE trouxe a Índia ao Gantois da mãe queridaPadre Miguel chamou Shiva pro carnavalE "Namastê" pra todo o povo d'avenidaHora de se benzer, hora de ir ao marColher o sal da liberdadeHá tempo aindaDesobedecer pra pacificarComo um dia fez a ÍndiaTERESA DE CALCUTÁÓ SANTA SENHORA, Ó MADRE DE LUZVENHA PRA ILUMINARESSE POVO DE VERA CRUZClama o meu paísE a Flor de Lótus símbolo da pazE a Vitória Régia da mesma raizPela tolerância para os desiguaisDeite e "holi"Nesse triunfo do bem e da féNerhu, Dom Hélder, Chico XavierRezem pra Índia e pro BrasilBENDITA SEJA A SANTÍSSIMA TRINDADEEM NOVA DELI OU NO CÉU TUPINIQUIMRONCA NA PELE DO TAMBOR DA ETERNIDADEO AMOR DA MOCIDADE SEM INÍCIO, MEIO E FIM
It's Carnival Time
Enjoy specials deals for Rio Carnival 2019