Mangueira
Its constant strong performances makes Mangueira one of the most sought-after school by the crowd
By far the most favorite samba school in Brazil, Mangueira is known for its tradition, a very strong and loyal supporting community and the best samba hall. It won the first samba parade of the Sambadrome and has always been ranked very high year after year since then, for its consistency and great performance. From amazing muses, breathtaking moves, scintillating music, outstanding costumes to great dancers, Mangueira has got it all. Today it is considered much more that a samba-school...a true Brazilian institution!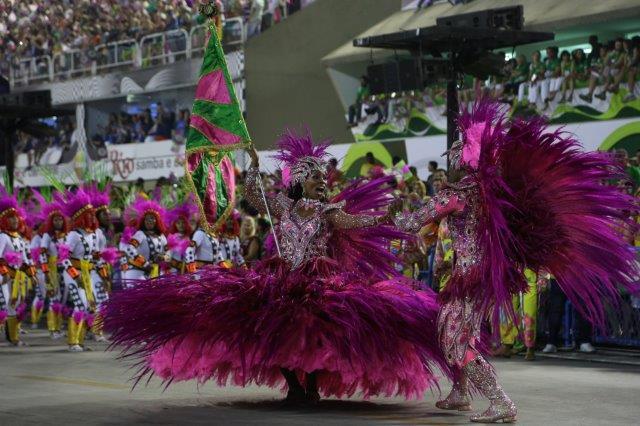 History
Estação Primeira da Mangueira Samba School was born in 28th of April 1928 from a fusion of the Rio Carnival street bands and originated in the slums near a hill of the same name and decided to use it as a tribute to their people. Its history is associated with legendary composer and founder Cartola who led the school to heights of fame and glory. Mangueiro's samba dancers have won numerous competitions since the very first Carnival Parade Championship in 1932 first ever held in the Sambadrome in 1984.
Identity
It was decided that the new samba school Mangueira would have green and pink as its official colors inspired by the soccer team Fluminense from Rio, since Cartola was its fan. Its symbol is a Surdo, a traditional samba bass drum with a wreath of bay leaves.
Performance
With 80 years of tradition backed by 17 Sambodrome Championship titles, Mangueira is Brazil's most popular samba school to date. Celebrated composer Cartola's creative genius and hard work led Mangueira to win many Carnival Championships since 1932 and presenting memorable carnival parades like Carnival of All Time, The Constant Son, Always Mangueira and Yes, We have Braguinha. This glamorous and advanced samba school is also responsible for several innovations at the Carnival parades including new type of samba instrument Pandeiro Oitavado.
Carnival Information 2018
Theme: "Com dinheiro ou sem dinheiro, eu brinco!"Composer: Lequinho, Júnior Fionda, Alemão do Cavaco, Gabriel Machado, Wagner Santos, Gabriel Martins e Igor Leal.Interpreter: Ciganerey e PériclesSamba EnredoChegou a hora de mudarErguer a bandeira do SambaVem a luz à consciênciaQue ilumina a resistência dessa gente bambaPergunte aos seus ancestraisDos antigos carnavais, nossa raça costumeira*Outrora marginalizado já usei papel barato**Pra desfilar na Mangueira*A minha escola de vida é um botequimCom garfo e prato eu faço meu tamborimFirmo na palma da mão, cantando laiálaiáSou mestre-sala na arte de improvisarÔôô somos a voz do povoEmbarque nesse cordãoPra ser feliz de novoVem como pode no meio da multidãoNão… Não liga não!Que a minha festa é sem pudor e sem penaVolta a emoçãoPouco me importam o brilho e a rendaVem pode chegar…Que a rua é nossa mas é por direitoVem vadiar por opção, derrubar esse portão, resgatar nosso RespeitoO morro desnudo e sem vaidadeSambando na cara da sociedadeLevanta o tapete e sacode a poeiraPois ninguém vai calar a Estação PrimeiraSe faltar fantasia alegria há de sobrarBate na lata pro povo sambarEu sou Mangueira meu senhor, não me leve a malPecado é não brincar o Carnaval!
It's Carnival Time
Enjoy specials deals for Rio Carnival 2019