Beija-Flor
The great Beija- Flor brings the most impeccable parade to the sambadrome
Ranked highest among all
samba schools
, 'Beija Flor' meaning 'Humming Bird' is a beloved bird in the Rio region. The school is based in a place called Nilopolis outside Rio and has achieved the reputation of being the best school because of outstanding artistry, organized management and a strong intent to win. It winning streak began in 1998 and won consecutively from 2003 to 2008. Beija Flor is well-known for its creative brilliance, extravagant
costumes
and powerful performances.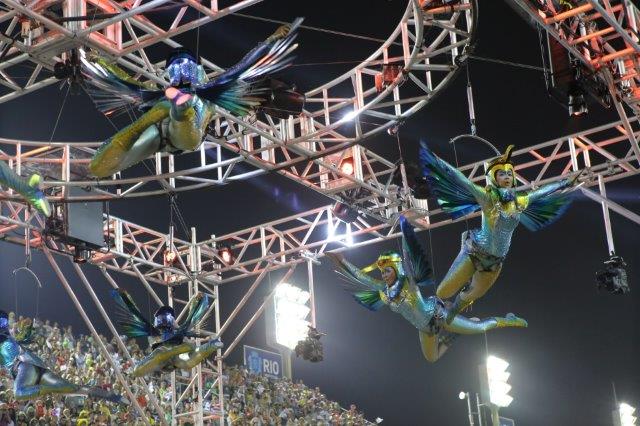 History
The Beija-Flor de Nilopolis School of samba was founded on December 25th, 1948. Its successful debut at the parade of 1949 excited the members of the block who made better arrangements and encouraged the school. However it started to compete in the samba major league since 1954. And the school's best period began with its institutional revolution in 1974 and since then it has set a series of miles-stones in samba history.
Identity
The name Beija Flor was inspired by the ranch Beija-Flor that existed in the city of Marquês de Valença and the humming bird became its official symbol. Its colors are dark blue and white.
Performance
Each year the Beija-Flor samba dancers treat the Carnival audience to another amazing show. It is famed for being innovative as well as controversial with sensitive parade themes like religion. Some of its themes were Macapaba: solar equinox, fantastic journey through the world, Rats and Vultures drop my fantasy and In the shower of joy, who bathes the soul in the body washes folia. Beija-Flor is the prestigious winner of 11
parades
in the Rio Carnival and has been vice-champion 10 times. It is the home of extremely creative and talented producers in the history of Brazilian Carnival. With big and sumptuous floats, astonishing costumes, fabulous drum sections and gregarious muses, this humming bird of samba has taken Carnival parades to new heights of luxury and creativity.
Carnival Information 2018
| Group | Day of the Parade | Parade Time |
| --- | --- | --- |
| Special Group | February 12 | 03:25 |
Theme: "Monstro é aquele que não sabe amar. Os filhos abandonados da pátria que os pariu"
Composer: Di Menor BF, Kiraizinho, Diego Oliveira, Bakaninha Beija Flor, JJ Santos, Julio Assis e Diogo Rosa.
Interpreter: Neguinho da Beija-Flor
Samba Enredo
Sou eu…espelho da lendária criaturaum mostro…carente de amor e de ternurao alvo na mira do desprezo e da segregaçãodo pai que renegou a criaçãorefém da intolerância dessa genteretalhos do meu próprio criadorjulgado pela força da ambiçãosigo carregando a minha cruza procura de uma luz, a salvação!Estenda a mão meu senhorpois não entendo tua fése ofereces com amorme alimento de axéme chamas tanto de irmãoe me abandonas ao léutroca um pedaço de pãopor um pedaço de céuGanância veste terno e gravataonde a esperança sucumbiuvejo a liberdade aprisionadateu livro eu não sei ler, brasil!Mas o samba faz essa dor dentro do peito ir emborafeito um arrastão de alegria e emoção o pranto rolameu canto é resistênciano ecoar de um tamborvêm ver brilharmais um menino que você abandonouOh pátria amada, por onde andarás?Seus filhos já não aguentam mais!Você que não soube cuidarvocê que negou o amorvem aprender na beija-flor
It's Carnival Time
Enjoy specials deals for Rio Carnival 2019